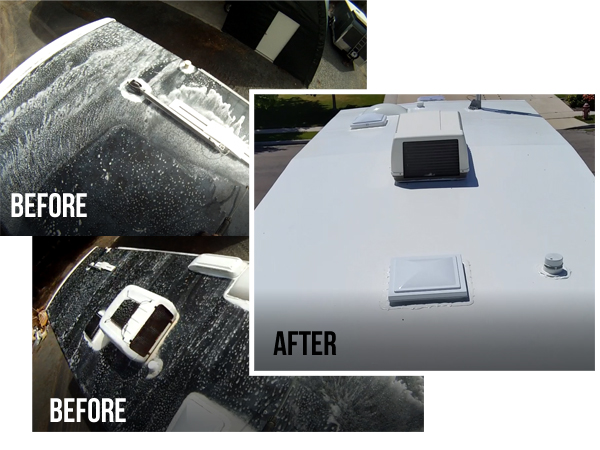 Fix Your RV Roof With ArmorThane Protective Coatings
Fix Your RV Roof For The Last Time With ArmorThane
ArmorThane has changed the RV industry with its spray polyurea technology that creates seamless sprayed RV roofs. Your RV will be watertight without any additional caulking. If you are in the Callahan Florida area, give Final Touch RV a call to find out how ArmorThane can protect your RV. Or if you would like to learn about how you can become a certified ArmorThane applicator yourself, visit or call ArmorThane today!
This is the best product available for the best price. ArmorThane's spray-on roof coating will protect your RV for a lifetime. You don't need to worry about roof repairs. Get the best quality product for your dollar.
ArmorThane is certified to apply state-of-the-art polyurea coatings. Their professionals have received training and can offer a 100% guarantee for all work and product applications.
ArmorThane is the industry leader in polyurea coatings. Their coatings permanently seal cracks, creating a waterproof coating that will last a lifetime for your RV roof. No need to caulk! 
Many RV owners search online for solutions to their leaking rubber or fiberglass roofs. Most RV roof materials, such as rubber and sheet plastics need to be renewed every two years for their durability. Leakages in roofs can occur from wear and tear, weather damage, and tree overhanging.
ArmorThane, the industry leader, has the solution you are looking for ongoing roof repairs. The 100% spray-on polyurea protective coating forms a barrier against water
ArmorThane roofs can be applied indoors using a spray-on method by the certified technicians at ArmorThane.
Permanently Eliminate Leaks
Final Touch RV professionals apply ArmorThane, a polyurea coating, to your RV roof. You can travel with confidence knowing that there will be no leaks.
Strong, flexible and durable
The thickness of the ArmorThane coating is 1/4″ This durable, waterproof, and full-coverage spray-on roofing material will be your last roof. You are guaranteed!
Quick Turnaround
ArmorThane polyurea cure time is approximately 15 seconds. It fully cures in a matter of hours and not days thanks to its fast processing. In no time, you'll be back on the road!
Are you ready to stop repairing your RV roof forever?