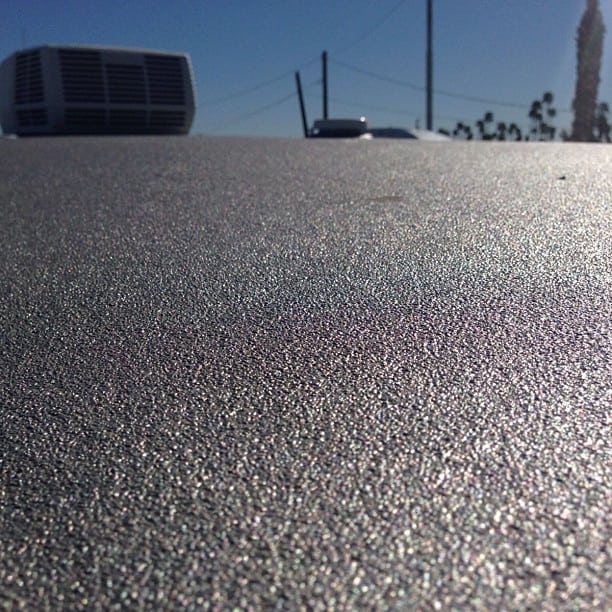 Roof maintenance is crucial to owning an RV, as its constant exposure to harsh weather conditions and fluctuating temperatures can lead to various problems. Many RV owners struggle with leaks, cracks, and general wear and tear that can impact their rig's roof's overall lifespan and appearance. In this blog post, we will explore different RV roof coating options and provide an in-depth analysis of a trending product, polyurea; we aim to help you make an informed decision about how to protect best and prolong the life of your RV's roof.
Common RV Roof Issues and How Roof Coatings Can Help
Before diving into the various roof coating options, it's important to understand the problems they're designed to address. Here are a few common issues RV owners face:
Leaks: Over time, your RV's roof may develop leaks, causing water damage to the vehicle's interior.
Cracks: Structural wear and tear can lead to cracks in the roofing material, further exposing your RV to damage from external elements.
Heat damage: Extreme heat from the sun can cause your RV's roof to dry out, leading to warping and cracking.
UV degradation: Prolonged exposure to UV rays can harm the structural integrity of your RV's roof, resulting in fading and weakened materials.
Fortunately, a quality roof coating can help you manage and prevent these issues. By enhancing the durability, weather resistance, and overall performance of your RV's roof, the right coating option can lengthen its lifespan and reduce maintenance costs.
Different RV Roof Coating Options
When choosing an appropriate roof coating for your RV, several options are available, each with its own benefits and drawbacks. Let's explore a few of these and their key attributes:
Silicone Coatings
Pros: Excellent UV resistance, water-resistant, reduces heat buildup, and adheres well to various materials.
Cons: Relatively expensive, requires precise application, and may collect dirt and airborne debris.
Acrylic Coatings
Pros: Budget-friendly, UV resistant, available in a range of colors, and environmentally friendly.
Cons: Less flexible, may require periodic reapplications, and less effective in damp or humid climates.
Elastomeric Coatings
Pros: Highly flexible, waterproof, easy to apply, and can extend the life of your RV's roof.
Cons: It may require frequent maintenance, can be susceptible to dirt buildup, and is less effective in colder temperatures.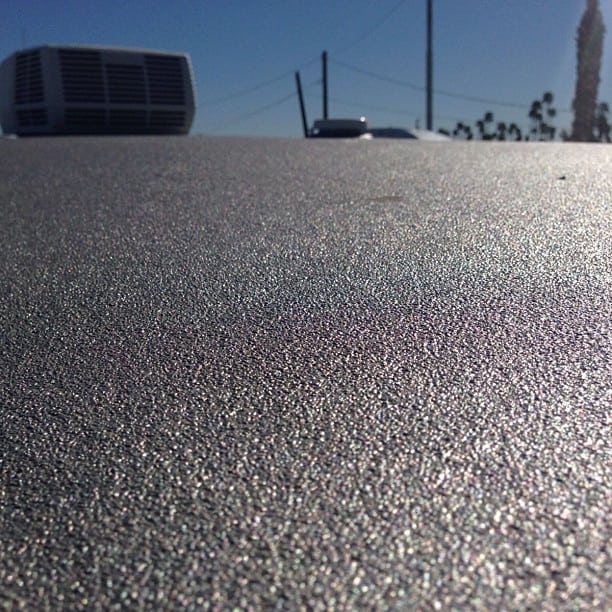 Polyurea Coatings
Polyurea is an emerging player in the RV roof coating market. This innovative product offers numerous advantages that have garnered the interest of RV owners and repair professionals alike.
Features and Benefits
Fast curing process, reducing downtime during application.
Highly versatile and can adhere to a wide array of vertical and horizontal surfaces.
Highly flexible, allowing the coating to expand and contract with the RV's movements.
Resistant to water, chemicals, UV radiation, heat, and abrasion.
Low maintenance and long-lasting
Workability and Suitability
One of the standout features of polyurea is its fast curing process, allowing for rapid application and minimal downtime. This can be especially beneficial for RV owners needing quick repairs or who prefer to tackle the task themselves. However, proper surface preparation and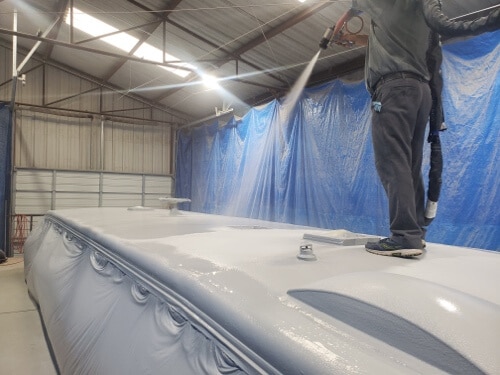 This tough, durable material has several advantages over traditional coatings, making it an excellent choice for RV owners looking for superior protection and longevity.
Polyurea is a spray-applied elastomeric plastic generally used for waterproofing, corrosion protection, and impact resistance. It is highly flexible and can stretch up to 500% without breaking. The material forms an impermeable barrier that helps prevent water from penetrating through the roof of an RV. It also provides outstanding UV resistance, helping to protect against sun damage and fading.
Unlike traditional coatings such as acrylics or latex paints, polyurea does not require primer or additional topcoats to ensure proper adhesion and maximum durability. The material cures quickly after application, reaching full strength within minutes while other coatings can take days or weeks to cure completely. This makes polyurea a great choice for RV owners who need a dependable way to protect their investment from the elements with minimal downtime.
In addition to its superior waterproofing properties and rapid curing time, polyurea has several other features that make it ideal for RV roofs. The coating resists dirt buildup better than traditional coatings due to its nonporous surface, which simply allows dirt particles to roll off when wet from rain or dew. Polyurea also exhibits excellent abrasion resistance, which will withstand wear and tear more effectively than other coatings while maintaining its protective qualities.
As if these features weren't enough, polyurea also provides superior protection against both chemical spills and extreme temperatures compared to traditional coatings like latex or acrylics. This makes polyurea a great choice for those looking for maximum protection no matter what environmental conditions they may face on their travels.
When it comes to installation times there's no beating polyurea either: one experienced applicator can install up to 600 square feet in one single day! Compare this with 36 square feet with other coatings – easily making it three times faster – and you can see why so many RV owners are switching over to this amazing product!
In short, there's no question that polyurea is the ultimate roof coating option when it comes to recreational vehicles: its superior waterproofing capabilities combined with fast installation times make it an obvious choice over any other type of coating available today. With increased UV resistance, chemical resistance, abrasion resistance and flexibility, polyurea stands out head and shoulders above the competition as the best long-term investment for your RV!