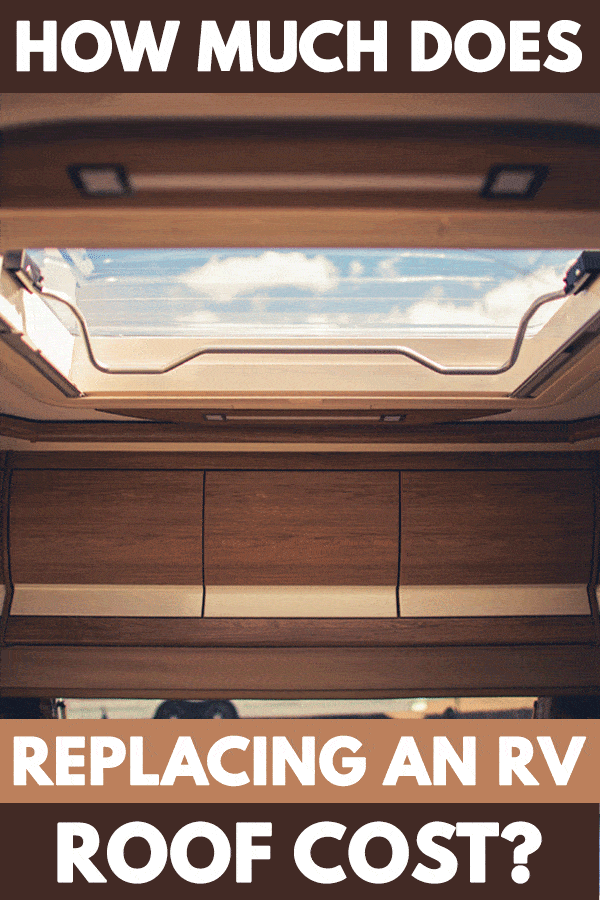 Reviews
What's It Cost To Replace My RV Roof?
|
June 29, 2022
Do you desire to know the cost to replace the roof on your RV? Doing research ahead of time will help you prepare. Luckily for you, we have already accomplished the research. Below we documented what we found about the cost of replacing an RV roof.
The average cost of replacing an RV roof will cost somewhere around $300-$325 per linear foot. If your RV is 36 feet long, it would cost somewhere between $7 thousand and $12 thousand to replace the roof of your RV.
As we informed you in our article on RV roofing types, there are several types of RV roofing materials to choose from. Because of those disparities, your price estimate will vary depending on the type of roof you choose to replace the old roof with.
Still not convinced? Let us explain further.
Types of RV Roofing
Can I Replace The Roof Myself?
According to Overlanding Review, that is precisely what one RVer did.
The owner of this fifth wheel used ArmorThane to make a DIY spray-on roof. Using a Bedliner to build an RV roof seems like a pretty good idea to us. What about you? Leave us a comment with your thoughts.
Replacing an EPDM Roof DIY style
It is possible to replace an EPDM roof yourself. Helpfully bestmaterials.com shares a link for a brochure explaining best practices, and how to return an RV EPDM roof. Click the link here to view the brochure.
pplmotorhomes.com has kits available on their website; the link is right here. The options include rolls of EPDM (Ethylene Propylene Diene Monomer), Rolls of TPO (Thermoplastic Polyolefin), roofing membrane rolls, installation kits, and adhesives.
How Important Is Roofing Membrane?
If you recall from our post on the different types of RV roofs, the roofing membrane is the final fail-safe on your RV roof. From top to bottom, you have the roof cover layer, the roof decking layer, and then the roof membrane.
The membrane is a final seal to keep water out of your RV, regardless of whether you decide to repair, or replace it yourself, or ask a professional to do it for you. Be sure to request a membrane layer on your new RV roof.
Time Will Tell
As a rule, time is money. One common theme in all of our research on this topic is that no matter your decision on repair vs. replacing the roof, it will take time. It will take time if you decide to replace it yourself or to hire a contractor to do it for you.
It takes time to remove all the rooftop accouterments — time to inspect the inner parts of the RV for damage. In most of the first case accounts, we found there was additional damage that isn't seen before removing the old roof.
Consequently, it also takes time to replace all of the vents, and AC units, and plumbing covers once the roof is redecked, and ready for its covering.
Can I Repair Instead of Replace?
After looking at the prices or the time investment of replacing an RV roof, you might have cause for hesitancy. You might be asking can I repair the roof instead of replacing it?
In some cases, yes, you can repair the roof instead of replacing it. Here is a list of considerations in making the decision to repair instead of replace the roof.
Amount of damage
Time until upgrading the RV
Cost of materials plus time
Level of confidence in your handyman skills
The waiting list for roof replacement
LazeDaze has a list of the processes and materials involved in repairing a rubber or fiberglass roof. Here is the link.
Prevention The Best Protection
The best weapon against having to replace your RV roof is prevention.
RV Roof Covers
Ideally, the storage of your RV should include a roof over your RV. This will go a long way in keeping the RV roof from being damaged. However, since that isn't always an option. RV covers are an excellent way to prevent the elements from working their magic. A cover will safeguard your RV from moisture, wind, dirt, and ultraviolet light.
No matter what type of roof you have on the RV, you should check it routinely to prevent missing a leak, and getting left with significant water damage. Even a pinhole leak left unchecked can cause mildew, mold, and water damage.
Here is a list of the best sealants to use for your RV roof.
ArmorThane ArmorSeal

Eternabond RSW-4-50

Geocel GC28100
Geocel GC 24200
Enjoy Your Newly Replaced RV Roof
A new roof will go a long way to the pleasure, longevity, and durability of your RV. However, there are some things to keep in mind.
Replacing your RV roof is a substantial investment, financially and in quality of life in an RV. As we stated earlier, our research has shown the types of RV roofing materials that are out there. Each one requires a different level of inspection and repair or maintenance to upkeep.
Don't forget that once your RV roof has been replaced a cover will go a long way in protecting your RV roof from deterioration.
We wish you good luck with replacing your RV roof. Leave us a comment and let us know how much your roof replacement cost, and what type of new roof you have.