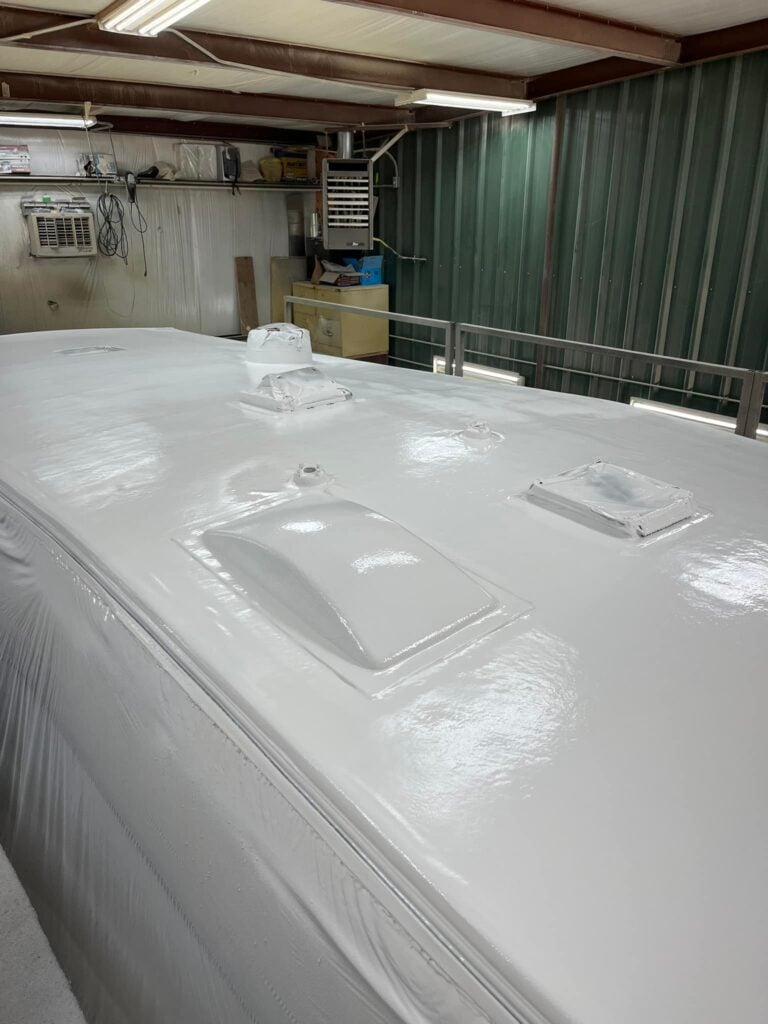 Uncategorized
Finding the Perfect Solution for RV Roof Repairs: Polyurea Spray
|
May 18, 2023

If you own an RV, then you understand how important it is to have a durable and reliable roof. With constant exposure to harsh weather conditions, it's not uncommon for an RV roof to suffer from cracks, leaks, and other damages over time. Fortunately, modern technology offers a number of solutions to combat these problems. One of the best is polyurea spray, a unique roofing material that has become the go-to for RV owners looking for a long-lasting and effective way to repair their roofs. In this blog post, we'll cover everything you need to know about polyurea spray and why it's the ideal solution for fixing your RV roof.
Durability: Polyurea spray is known for its durability and toughness. Unlike traditional roofing materials that may last only a few years, polyurea can provide up to 25 years of protection against weather, UV rays, and other environmental factors. This means you won't have to constantly worry about maintaining or repairing your RV roof, giving you more time to enjoy your travels.
Leak-Proof: Water leaks are one of the most common issues faced by RV owners. Fortunately, polyurea spray offers a seamless and watertight surface that leaves no room for leaks. Additionally, it can easily be applied around vents, pipes, and other protrusions, ensuring that no water will enter through those areas.
Easy Installation: Polyurea spray is easy and quick to install, which means less downtime for your RV. When you hire a professional to do the installation, they will clean the surface, apply the spray, and let it dry within a matter of hours. This means you can have your RV back on the road sooner rather than later.
Cost-Effective: While polyurea spray may initially be more expensive than other roofing materials, its long-term durability makes it a cost-effective solution in the long run. You won't have to worry about frequent repairs or replacements, saving you money on maintenance and materials.
Versatility: Another great feature of polyurea spray is its versatility. It can be applied to various roofing materials, including metal, rubber, and fiberglass. This means you don't have to worry about finding a specific type of material for your RV, as polyurea can be applied to almost any surface.
:
Overall, polyurea spray is the best option for RV owners who want to repair their roofs efficiently and effectively. Its durability, leak-proof nature, easy installation, cost-effectiveness, and versatility make it the perfect solution for anyone who wants to ensure their RV roof stays strong and reliable for years to come. So, what are you waiting for? Contact a professional today to learn more about how polyurea spray can help you with your RV roof repair needs.