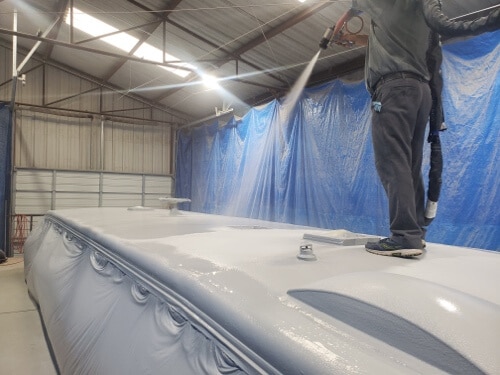 When it comes to owning an RV, there are many maintenance tasks to consider. One crucial aspect that often gets overlooked is protecting the roof. The roof of your RV is exposed to a multitude of harsh elements, including intense sunlight, rain, snow, and even tree sap. Without proper protection, these elements can cause significant damage, resulting in expensive repairs. That's where ArmorThane protective coatings come in. In this article, we will explore the benefits of using ArmorThane coatings to protect your RV roof and how they can extend the lifespan of your vehicle.

1. The Importance of Protecting Your RV Roof

The roof is the first line of defense for your RV, shielding it from the elements. However, over time, continuous exposure to harsh conditions can cause damage to the roof, leading to leaks, cracks, and deterioration. Repairing or replacing a damaged roof can be a costly and time-consuming process. By taking proactive measures to protect your RV roof, you can save yourself from future headaches and expenses.

2. Introducing ArmorThane Protective Coatings

ArmorThane is a leading provider of robust and long-lasting protective coatings. They offer a variety of solutions suitable for different applications, including roofs. Their coatings are formulated to provide excellent protection against UV rays, water, chemicals, and other environmental factors that can damage your RV roof. ArmorThane coatings are easy to apply, adhere strongly to various surfaces, and provide a seamless, waterproof barrier.

3. Benefits of ArmorThane Coatings for RV Roofs

UV Protection: The intense sunlight can cause the roof material to degrade and fade over time. ArmorThane coatings contain UV inhibitors that protect against harmful UV rays, preventing premature aging and damage.

Waterproofing: One of the most common issues with RV roofs is leaks. ArmorThane coatings create a seamless, impermeable barrier that prevents water from infiltrating the roof. This feature is particularly crucial during heavy rain or snowfall.

Enhanced Durability: ArmorThane coatings are highly durable and resistant to abrasion, impacts, and chemical exposure. They can withstand extreme weather conditions, preventing cracks, chips, and other forms of damage from occurring.

Energy Efficiency: Applying ArmorThane coatings to your RV roof can improve energy efficiency by reflecting sunlight and reducing heat transfer. This helps to keep the interior of your RV cooler during hot summer months, reducing the workload on your air conditioning system.

Easy Maintenance: ArmorThane coatings are low maintenance, requiring minimal effort to keep them in top condition. Regular cleaning with mild soap and water is sufficient to ensure the longevity of the coating.

4. Application Process

Applying ArmorThane coatings to your RV roof is a straightforward process. However, it is essential to follow the manufacturer's instructions for the best results. Here is a general overview of the steps involved:

Clean the Roof: Thoroughly clean the roof, removing any dirt, grease, or debris. Ensure that the surface is dry before proceeding.

Prep the Surface: Depending on the condition of the roof, you may need to repair any existing damages or perform a surface preparation. This step may involve sanding, patching, or priming, depending on the material and its condition.

Apply the Coating: Use a roller or sprayer to apply the ArmorThane coating evenly onto the roof surface. It is essential to apply multiple coats for optimal protection. Allow each coat to dry completely before applying the next one.
Maintain the Coating: Regularly inspect the coating to ensure there are no areas of damage or wear. If necessary, apply touch-ups or additional coats to maintain the coating's effectiveness.

Conclusion

Protecting your RV roof is a crucial step in maintaining the overall integrity of your vehicle. ArmorThane protective coatings offer an excellent solution for safeguarding your roof against the elements. With their UV protection, waterproofing capabilities, durability, and energy efficiency, ArmorThane coatings can significantly enhance the lifespan of your RV roof. By taking the time to apply these coatings, you can enjoy years of worry-free travel and adventure in your RV.