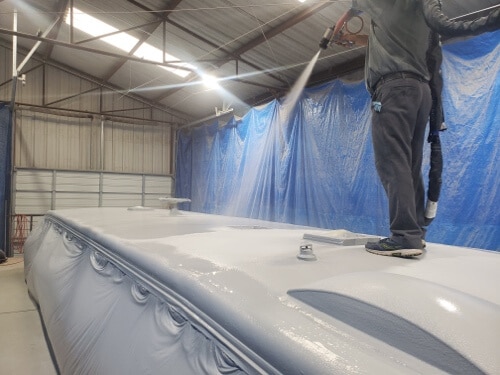 When it comes to choosing the right roofing system for your RV, there are several factors to consider. From durability and weather resistance to ease of maintenance and overall lifespan, the roofing material plays a crucial role in protecting your investment and ensuring a comfortable and secure camping experience. One of the most popular choices among RV enthusiasts is the polyurea coating. In this blog post, we will delve into the world of RV roofing systems, specifically exploring the benefits and applications of polyurea coatings.
Understanding RV Roofing Systems
Before we dive into polyurea coatings, let's take a moment to understand the different types of roofing systems commonly used in RVs. There are primarily three types of roofing materials:
Rubber: Rubber roofs, often made of ethylene propylene diene monomer (EPDM), are popular due to their affordability and ease of installation. However, they require regular maintenance to prevent cracks and leaks. UV exposure can also degrade the rubber over time.
Fiberglass: Fiberglass roofs provide excellent strength and durability. They are resistant to UV rays and offer good insulation. However, they are heavier and more expensive than rubber roofs, and can be susceptible to cracking if not properly maintained.
Aluminum: Aluminum roofs are incredibly lightweight and resistant to corrosion. They are known for their longevity and durability, but they can be expensive and prone to denting.
Polyurea Coatings: The Game-Changer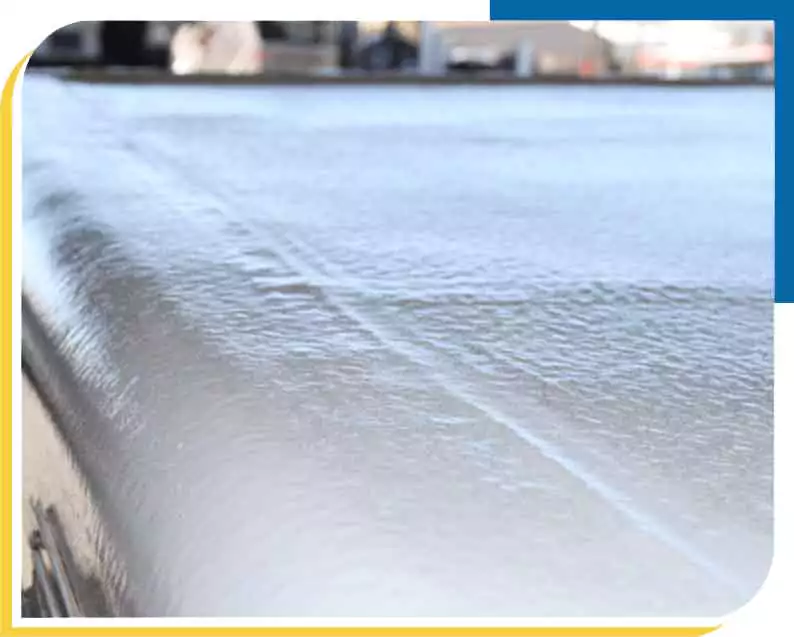 Polyurea coatings have emerged as a game-changer in the RV roofing industry. These coatings are a combination of a synthetic resin and a polymer isocyanate. They form a resilient, waterproof membrane when applied to the RV roof, providing exceptional protection against various environmental elements. Here are some key benefits and applications of polyurea coatings:
Superior Durability: Polyurea coatings provide exceptional durability, even in extreme weather conditions. They are resistant to UV rays, temperature fluctuations, water, chemicals, and impact damage. This ensures that your RV roof remains intact and leak-free for an extended period, reducing the need for frequent repairs or replacements.
Seamless and Waterproof: Unlike other roofing systems that rely on seams and joints, polyurea coatings create a seamless, monolithic membrane. This eliminates the most common point of vulnerability for leaks and reduces the likelihood of water damage. With polyurea coatings, you can enjoy peace of mind knowing that your RV is protected from water infiltration.
Fast Application and Curing: Polyurea coatings offer a quick and efficient application process. They can be sprayed directly onto the RV roof, resulting in a seamless and uniform layer. The coating cures rapidly, allowing for minimal downtime during the application process. This is especially beneficial for RV owners who want to get back on the road as soon as possible.
Thermal Stability and Energy Efficiency: Polyurea coatings have excellent thermal stability, meaning they can withstand extreme temperature fluctuations without cracking or warping. This helps to maintain a comfortable interior temperature in your RV while reducing the strain on your air conditioning system, thus improving energy efficiency.
Easy Maintenance: Since polyurea coatings create a seamless surface, they are incredibly easy to maintain. Regular cleaning with mild soap and water is typically sufficient to keep the roof in pristine condition. This saves you time and effort in the long run, allowing you to focus on enjoying your RV adventures.
Versatility: Polyurea coatings are suitable for different types of RV roofs, including rubber, fiberglass, and aluminum. They can be applied to both new and old roofs, making them a versatile choice for RV owners looking to upgrade or repair their existing roofing system.
In conclusion, when it comes to RV roofing systems, polyurea coatings offer unparalleled durability, waterproofing, and ease of maintenance. They are an excellent choice for protecting your RV investment and ensuring a comfortable and worry-free camping experience. Whether you have a rubber, fiberglass, or aluminum roof, polyurea coatings provide a seamless, long-lasting solution that can withstand the harshest elements Mother Nature has to offer. So, if you're in the market for a new roofing system for your RV or looking to upgrade the existing one, consider the many advantages of polyurea coatings – the ultimate shield for your home-on-wheels.